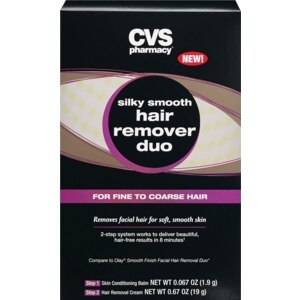 CVS Silky Smooth Hair Remover Duo, Fine to Coarse Hair
Step 1: Skin Conditioning Balm: 0.067 oz (1.9 g); Step 2: Hair Removal Cream: 0.67 oz (19 g). For fine to coarse hair. Removes facial hair for soft, smooth skin. 2-step system works to deliver beautiful, hair-free results in 8 minutes (when used as directed). Compare to Olay Smooth Finish Facial Hair Removal Duo (This product is not manufactured by, affiliated with, or endorsed by Procter & Gamble, maker of Olay brand products). CVS/pharmacy Silky Smooth Hair Remover Duo is specially formulated to gently yet effectively remove unwanted facial hair on the upper lip and jaw line. The skin conditioning balm and hair removal cream work together to help minimize irritation and leave you with soft, touchable, hair-free skin in just 8 minutes. Dermatologist tested Works on all hair types, from fine to coarse Step 1: Skin Conditioning Balm: Helps moisturize and soothe skin, making it less prone to irritation often associated with hair removal. Step 2: Hair Removal Cream: Gently removes unwanted hair of all types for soft, smooth skin. CVS quality. Made in the USA.
Product Type:

Hair Remover

Quantity:

1-10 CT

Ship & Save:

Ship & Save Eligible

Size:

Set
Skin Conditioning Balm Ingredients: Sucrose Polycottonseedate, Brassica Campestris/Aleurites Fordi Oil Copolymer, Ozokerite, Beeswax, Propylparaben, Ethylene Brassylate, Tocopherol, Propyl Gallate, Tocopheryl Acetate. Hair Removal Cream Ingredients: Water, Cetearyl Alcohol, Mineral Oil, Calcium Thioglycolate, Calcium Hydroxide, Ceteareth-20, Sodium Hydroxide, Fragrance, Aloe Barbadensis Leaf Juice, Boswellia Serrata Gum, Sodium Silicate, Silica, Isostearyl Alcohol, Disodium EDTA, Sodium Benzoate, Potassium Sorbate.
Step 1: Prep Skin: Lightly apply a thin, even layer of Skin Conditioning Balm to the middle of the areas you wish to treat. Apply only once for the most effective hair removal. Use your fingertips to massage into skin, applying product beyond the areas you wish to treat. Massage in a circular motion for 20 seconds. This ensures that a pre-treatment layer is in place, so the product does not directly contact skin and hair is not coated with excess product. Step 2: Remove Hair: Using your fingertip, smooth a thick layer of Hair Removal Cream over the area you wish to treat (for upper lip, use a grape-sized amount). Cover the area completely - do not rub in. Use only after applying the Skin Conditioning Balm from Step 1. Immediately after use, wash hands thoroughly with soap and warm water. Let cream set for 6-8 minutes. Thicker hair may require more time. Do not exceed 10 minutes. Gently remove cream with a tissue or cotton ball. Rinse skin thoroughly with lukewarm water and pat dry.
For external use only. Keep out of reach of children. Product can cause allergic reactions and irritation. 48 hours before each use, test your skin reaction by evenly applying a small, pea-sized amount of cream to forearm. Do not rub into skin. After 10 minutes, remove product and rinse skin. If after 48 hours there is no adverse reaction, begin using as directed. If discomfort or irritation occurs, remove product right away and rinse with cold water. If irritation persists, stop use and seek medical advice. Do not use around eyes, eyebrows, ears, nose, breasts, perianal or genital areas. If eye contact occurs, rinse right away and seek medical advice. Do not use on scars or moles, or on broken, irritated, sunburned or recently shaved skin. Do not exceed 10 minutes of use or severe irritation can result. Wait 72 hours between uses. In case of ingestion, consult doctor right away. Contains alkali and thioglycolate.