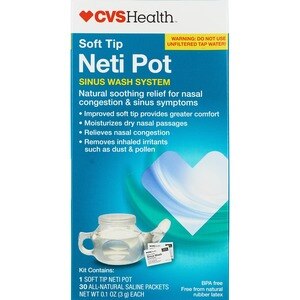 CVS Sinus Wash Neti Pot Kit
You May Also Like
Size: 100 EA

$12.49

(12.5¢ / ea.)
Other Information: Inspect saline solution packets for integrity. Do not use if open or torn. Protect saline solution packet from excessive heat and moisture. Misc: Kit Contains: 1 neti pot & 30 all-natural saline packets. Net wt 0.1 oz (3 g) each. All-natural nasal wash system. Soothe dry nasal passages. Clear nasal congestion. Uses gentle flow of gravity. Includes 30 all-natural saline packets. Nasal washing is an all natural method for temporarily relieving symptoms; sneezing, runny nose, nasal stuffiness, and post nasal drip; caused by sinusitis, cold, flu, or allergies. It removes inhaled irritants (dust, pollen) and helps to loosen thick mucus and moistens nasal passages. Consult a physician prior to use with any questions. www.cvs.com. CVS Quality. Please recycle. Made in the USA.
Ship & Save:

Ship & Save Eligible
Active Ingredients: In Each Packet: Sodium Bicarbonate USP (700 mg), Sodium Chloride USP (2300 mg). Purpose: Nasal Wash.
Directions: Consult Instructions for Use inside box for proper use. Adults and Children 4 Years and Over: Use 1-2 packets per 8 oz container ever 2 hours as needed. Children Under 4 Years: Consult a physician.
Warnings: When using this product: use by only one person; wash with soap and water after each use; top rack of dishwasher safe; do not heat in microwave. Keep out of reach of children. Other warnings: Stop use and consult a health care provider if washing is uncomfortable or symptoms are not relieved or worsen after nasal rinsing, especially if fever, nosebleed, or headaches are present. Do not use unfiltered tap water in CVS/pharmacy Sinus Wash. Use wither distilled, or sterile, or filtered (using a filter with an absolute pore size of 1 micron or smaller) or previously boiled water (boil water 1 to 3 minutes if at elevations above 6500 feet then allow to cool to body temperature).