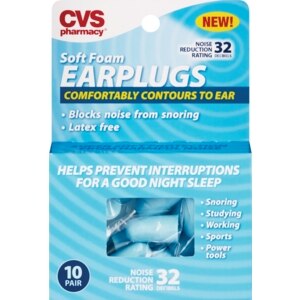 CVS Soft Foam Earplugs Latex Free
Noise Reduction Rating: 32 decibels. Comfortably contours to ear. Blocks noise from snoring. Latex free. Helps prevent interruptions for a good night sleep. Snoring. Studying. Working. Sports. Power tools. Super soft protection from harmful noise. Prevent future hearing problems by using proper hearing protection. Noise Reduction Rating: 32 decibels (when used as directed). The range of noise reduction ratings for existing hearing protectors is approximately 0 to 32 (higher numbers denote greater effectiveness). Federal law prohibits removal of this label prior to purchase. Label required by US EPA Regulation 40 CFR Part 211, Subpart B. www.cvs.com. CVS quality guarantee. Made in the USA.
Product Type:

Earplugs

Quantity:

11-20 CT
For Effective & Comfortable Use: 1. With clean hands, roll plug bag & forth between fingers to form a tight cylinder. 2. Immediately insert compressed plug into ear canal. Hold plug in place until it expands to give a snug, comfortable fit.
Keep away from infants and small children. This product is non-toxic, but may interfere with breathing of caught in windpipe.