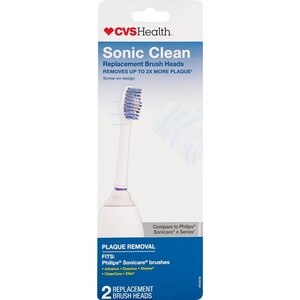 CVS Standard Replacement Brushheads
Fits Philips Sonicare Power Brush handles only. Removes plaque. Designed to fit: Advance A4000 models; Essence E5000 models; Elite E7000 and E9000 models; Xtreme E3000 models. Contoured brushheads with slim, angled neck design provides exceptional cleaning of all tooth surfaces and deep between teeth. Made in China.
For optimal performance, clean the brushhead at least once per week including under the removable nut and replace brushhead every 3 months. To reduce excessive noise or rattling, please insure the brushhead is securely tightened on the handle.