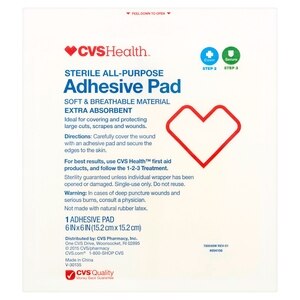 CVS Sterile All-Purpose Adhesive Pad 6 in x 6 in
6 x 6 inch. Sterile. Soft & breathable material. Extra absorbent. Ideal for covering and protecting large cuts, scrapes and wounds. Step 2: Cover. CVS quality guarantee. Made in China.
Carefully cover the wound with an adhesive pad and secure the edges to the skin. Peel down to open. For best results, use CVS/pharmacy first aid products.
Sterility guaranteed unless individual wrapper has been opened or damaged. Single-use only. Do not reuse. In cases of deep puncture wounds and serious burns, consult a physician.