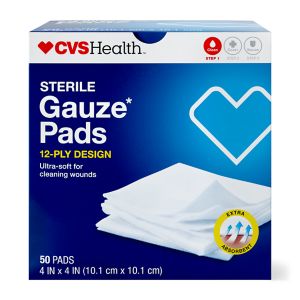 CVS Sterile Latex-Free Gauze Pads 4 in x 4 in
4 x 4 inch. Sterile. Ultra-soft for cleaning wounds. Extra absorbent. Step 1: Clean. Latex-free pads. Thick, durable design provides: ultra-soft material; more absorbency to pull fluid from wound and reduce risk of infection; easy way to apply medicine. Sterile Gauze (rayon-polyester blend) pads. Sterility guaranteed unless individual wrapper has been opened or damaged. CVS quality guarantee. CVS/pharmacy has specially designed products for each step. Made in China.
For best results, use CVS/Pharmacy first aid products, and follow the 1-2-3 Treatment. Step 1: Clean: Gently clean the wound using a gauze pad with mild soap and water. Carefully dry the affected area and apply medication if needed (not included).
In cases of deep puncture wounds and serious burns, consult a physician.