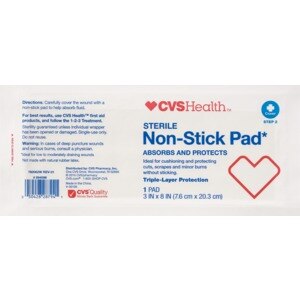 CVS Sterile Latex-Free Non-Stick Pad 3 in x 8 in
3 x 8 inch. Absorbs and protects. Ideal for cushioning and protecting cuts, scrapes and minor burns without sticking. Sterility guaranteed unless individual wrapper has been opened or damaged. Made in China.
Carefully cover the wound with a non-stick pad to help absorb fluid.
In cases of deep puncture wounds and serious burns, consult a physician.