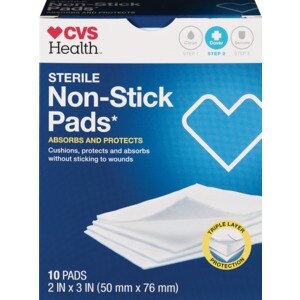 CVS Sterile Latex-Free Non-Stick Pads 2 in x 3 in
2 x 3 inch. Sterile. Absorbs and protects. Cushions, protects and absorbs without sticking to wounds. Triple-layer protection. Step 2: Cover. Latex-free pads. CVS/Pharmacy Sterile Non-Stick Pads cushion and protect cuts, scrapes and minor burns without sticking. Durable layers working together: cushions and protects wound; middle layer absorbs leakage; non-stick film on both sides for easy application and removal. Sterility guaranteed unless individual wrapper has been opened or damaged. CVS quality guarantee. CVS/pharmacy has specially designed products for each step. Made in China.
This item is FSA (Flexible Spending Account) eligible.
For best results, use CVS/Pharmacy first aid products, and follow the 1-2-3 Treatment. Step 2: Cover: Carefully cover the wound with a non-stick pad to help absorb fluid.
In cases of deep puncture wounds and serious burns, consult a physician.