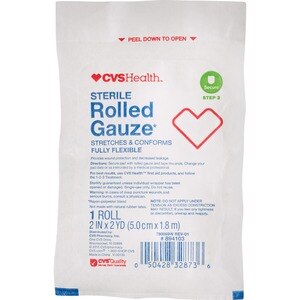 CVS Sterile Latex-Free Rolled Gauze 2 in x 2 yd
2 inch x 2 yd. Sterile. Latex-free. Stretches and conforms. Fully flexible. Provides wound protection and decreased leakage. Step 3: Secure. Rayon-polyester blend. CVS quality guarantee. Made in China.
Secure pad with rolled gauze and tape the ends. Change your pad daily or as instructed by a medical professional. Peel down to open.
Sterility guaranteed unless individual wrapper has been opened or damaged. Single-use only. Do not reuse. In cases of deep puncture wounds and serious burns, consult a physician.