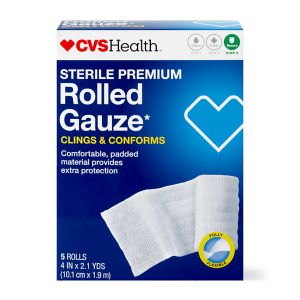 CVS Sterile Premium Latex-Free Rolled Gauze 4 in x 2.1 yd
4 inch x 2.1 yd unstretched. Sterile. Latex-free rolls. Clings & conforms. Comfortable, padded material provides extra protection. Fully flexible. Step 3: Secure. Sterile Premium Rolled Gauze (rayon-polyester blend). Stretchable material secures pad to hard-to-bandage areas: ultra-soft, comfortable padding for greater wound protection; superior absorbency - 25% more absorbent than standard rolled gauze; helps seal out dirt and contaminants. Sterility guaranteed unless individual wrapped has been opened or damaged. CVS quality guarantee. CVS/pharmacy has specially designed products for each step. Made in China.
For best results, use CVS/Pharmacy first aid products, and follow the 1-2-3 Treatment. Step 3: Secure: Secure pad with rolled gauze and tape the ends. Change your gauze pad daily or as instructed by a medical professional.
In cases of deep puncture wounds and serious burns, consult a physician.