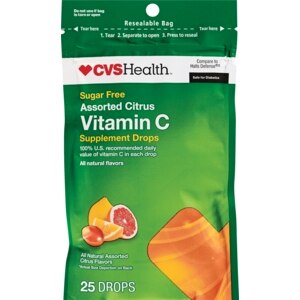 CVS Sugar Free Vitamin C Supplement Drops
Supplement drops. 100% US recommended daily value of vitamin C in each drop. All natural. GF: Certified gluten-free. Assortment may vary. Exchange Information: 1 drop = free exchange; 10 drops = 1 fruit. (The dietary exchanges are based on the Exchange List for Meal Planning. Copyright 1995 by the American Diabetes Association, Inc. and the American Dietetic Association. CVS quality money back guarantee. Made in the USA.
Inactive Ingredients: Isomalt, Hydrogenated Starch Hydrolysate, Sodium Ascorbate, Water, Citric Acid, Natural Flavors, Ascorbic Acid, Sucralose, Acesulfame Potassium, Beta Carotene, FD&C Red 40. Corn Starch and Soybean Oil Used as Processing Aid.
Suggested Use: As a dietary supplement for children 6 and up and adults, take 1 drop up to 4 times per day. Excess consumption may have a laxative effect.
Keep out of reach of children.