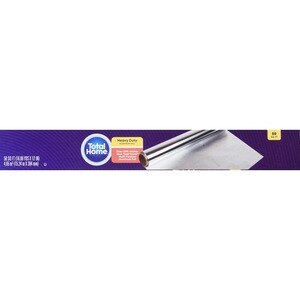 Total Home by CVS Heavy Duty Aluminum Foil, 50 Sq Ft
You May Also Like
Size: 20 EA

$3.29

(16.4¢ / ea.)
16.66 yards x 12 inches. Over 50% thicker than our standard foil (CVS/pharmacy standard foil). Total Home by CVS/pharmacy offers a wide selection of household products that work hard and save you money. Total Home - It's where performance and value live. Total Home Aluminum Foil covers and lines pots, pans, and baking sheets, keeping food fresh and cleanup easy. Line oven pans for quick and easy cleanup. Cover food for moisture and to prevent spatters and over-browning. Wrap food for freshness and to keep flavors and odors contained. CVS quality. 100% recycled paperboard. Please recycled used aluminum oil. Contact your community recycling center for more information. Made in the USA.
Push tab in to secure end of roll.
Sharp blade. To avoid possible heat damage, do not cover oven floor or an entire rack with aluminum foil except according to oven manufacturer's instructions.