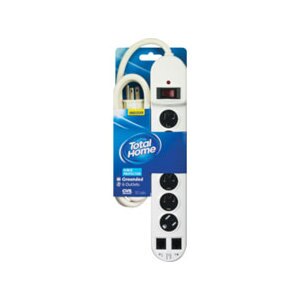 Total Home by CVS Six Outlet Surge Protector, White
Protect your electrical devices: computer, modem, fax, telephone. Simple solutions for your home. Protects valuable home/office equipment & appliances. 6 Grounded outlets surge protector, Three line surge suppressor. EMI/EFI noise filter. Illuminated on/off switch. LED surge indicator light. Reset circuit breaker. Power shut down protection. Made in China.
1. Do not use power strip outdoors in wet, oily areas or in high temperatures. 2. Always use a grounding adapter when plugging power strip into a two-outlet wall receptacle. 3. If the circuit breaker trips due to power overload, unplug and remove the appliance that caused the excess power drain and reset circuit breaker button. 4. To avoid overheating, make sure the power cord is uncoiled and knot free. 5. Always grip the plug and pull the plug out of the receptacle. Never pull plug out by the power cord. 6. Do not use this power strip as a switch for a refrigerator, air conditioner etc. 7. Do not use this power strip if a switch or cord is damaged.
Electric Shock Hazard: Keep away from children, fully insert plug, keep away from water. Risk of Fire: Do not exceed electrical rating. Fully extend before using. Disregarding cautions could cause damage, fire, or fatal shock. To deuce the risk of electrical shock use only indoors and in dry locations. Do not overload power strip outlets. (15 amp, 1875 watts, maximum.) Be sure to plug the power strip into a 110/120 volt receptacle. Do not coil the power cord when in service.