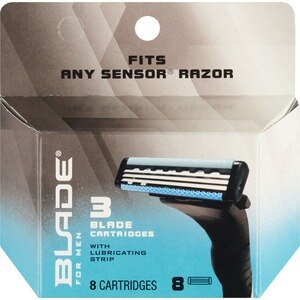 CVS Triple Blade Razor Cartridges
Fits any Sensor razor. Flexible blades. Three blades aligned with precision to shave close with one stroke. Flexing blades adjust to the contours of your skin. Premium blade coating allows the blades to comfortably glide across skin. Slim cartridge offers greater control in hard to shave areas. Micro Matrix guard prepares the beard for an incredibly close shave. Vitamin E and aloe lubricating strip reduces skin irritation.
To Change Cartridges: 1. Hold dispenser so the word up is at the top. 2. Press locking buttons on handle and snap razor mechanism into back of cartridge. 3. Rock handle forward and pull cartridge and handle from dispenser.