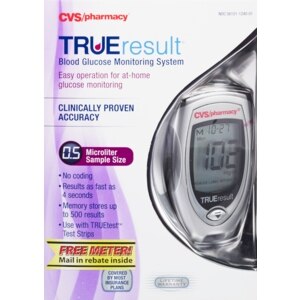 CVS TrueResult Blood Glucose Monitoring System
Easy operation for at-home glucose monitoring. Clinically proven accurate. 0.5 microliter sample size. No coding. Results as fast as 4 seconds. Memory stores up to 500 results. Use with Truetest Test Strips. Free meter! Mail in rebate inside. Covered by most insurance plans. Lifetime warranty. Personal blood glucose meters make caring for your diabetes easy. Our Trueresult Blood Glucose Monitoring System uses advanced testing technology to deliver clinically accurate, precise results. In as fast as 4 seconds, it accurately detects your blood glucose levels with audible fill and no coding. Plus, it store up to 500 results for your records, and determines your long-term averages. Featured Benefits: Results in as fast as 4 seconds; Tiny 0.5 microliter sample size; 7, 14, and 30-day averaging; 4 testing reminder alarms; Audible fill detection; Glucose control detection; Memory stores up to 500 results; Ketone test reminder; Alternate site testing; Strip release; Automatic on/off; Weekday display; Data management capabilities. Advanced Technology: Quad-Electrode Laser Accuracy provides enhanced precision & accuracy in every Truetest strip. Truefill Beveled Tip allows for greater sampling precision. 24/7 customer consultation English or Espanol 1-800-803-6025. www.niprodiagnostics.com. Blood glucose meters and test strips help you manage your diabetes every day. This system makes it easy to measure your blood sugar, keep a record of your levels, and help you manage your overall health. Includes: Trueresult Meter; installed 3-volt battery; lancing device (uses most lancets); 10 sterile lancets; 10 Truetest test strips; instructions for use; self-test log book; compact carrying case. Glucose Control Solution is not included and is available separately. Perform control tests before testing with blood. See instructions for use for more details. To receive control solution, please call 1-800-803-6025. CVS quality. www.cvs.com. Please recycle.
Reagents (Test Strips): Glucose Dehydrogenase-PQQ (Acinetobacter Calcoaceticus), Mediators, Buffers, & Stabilizers.
Use this meter with Truetest test strips. Step 1: Insert Truetest Strip. Step 2: Apply tiny blood sample. For self-testing and point-of-care testing of blood glucose. For in vitro diagnostic use only. Store in a dry place at room temperature between 36-86 degrees F (2-30 degrees C). Do not refrigerate or freeze.