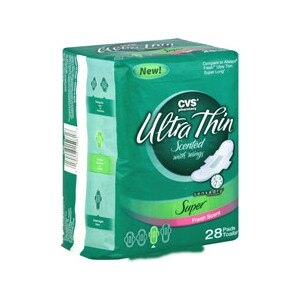 CVS Ultra Thin Pads with Wings Super Fresh Scent
Surprisingly absorbent for their thinness. Sensadry coversheet offers dry protection and soft comfort. The green super absorbent core helps to keep you fresh and dry. Wings allow optimal hold of the pad and increased protection against leakage. 1.5 inches longer than Regular Ultra Thin with wings. Individually wrapped for your convenience. Made in Canada.
Open pouch and remove pad. Keep pouch for disposal. Remove center peel strip from pad and press into panties. Peel paper tabs from wings. Wrap wings around sides and attach by pressing to underside of panties.
Keep plastic bag away from children. Do not flush.