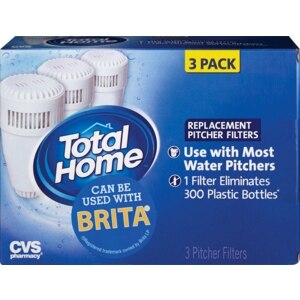 CVS Universal Replacement Water Filter
Can be used with CVS/pharmacy and most water filter pitchers. Reduces chlorine, bad taste and odor for better tasting water. Think green. Reduce plastic bottles. Why pay more for bottled water when you can quench your thirst with healthy and clean water right from your own faucet? Filtering your tap water is not only easier on your wallet, it's better for the environment. Our filters are proven to reduce chlorine, bad taste and odors in tap water. The activated carbon and ion exchange resin in the CVS/pharmacy Water Filter removes chlorine, bad taste and odor, providing great tasting drinking water. 1. Coarse filter. 2. Fine meshed first filter. 3. Ion exchanger. 4. Activated carbon. 5. Fine meshed re-filter. Made in Germany.
Replace your filter every two months or every 40 gallons. For Use: 1. Remove filter from polybag and immerse in cold water for 10-15 minutes to activate filter. Rinse briefly. 2. Insert in funnel opening of the water filter system. 3. Fill reservoir with water. Use with cold water only. Use the first water processed to water plants, etc. If no water flows into the carafe after inserting the filter, there could be air bubbles forming in the filter. Remove cartridge, shake gently and return into system. This product is designed to remove objectionable taste and odor from municipally treated tap water. Do not use with water that is microbiologically unsafe or of an unknown quality without adequate disinfection before or after the system. Filter cartridge is sufficient for up to 40 gallons or 150 liters depending on water harshness. To ensure maximum efficiency, process no more than 5 pitchers per day. Maximum Temperature: 85 degrees F/30 degrees C. Minimum Temperature: 32 degrees F/1 degree C. Replacement Guide (Average family of four or more): 3 pitchers used daily replace every 4 weeks; 2 pitchers used daily replace every 6 weeks. Container Disposal: Crack open and recycle the plastic portion. The remaining contents can be placed in household garbage.