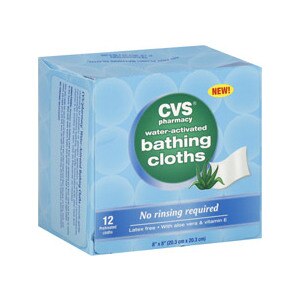 CVS Water Activated Bathing Cloths
8 x 8 inches. Water-activated. Pretreated cloths. No rinsing required. Latex free. With aloe vera & vitamin E. CVS/pharmacy water-activated Bathing Cloths provide gentle cleansing for pediatric or geriatric application, or whenever circumstances necessitate rinseless bathing. Specially formulated with aloe vera and vitamin E to soothe the skin .Use as frequently as needed. No rinsing necessary. Made in the USA.
Water, Cocamidopropyl Betaine, Propylene Glycol, Ammonium Lauryl Sulfate, Glycerin, Fragrance, Vitamin E Acetate, Methylparaben, Aloe Barbadensis Leaf Juice, Benzalkonium Chloride USP.
Remove one bathing cloth from inner wrapping at a time. Cloth will be dry to moist to the touch. Wet cloth with warm water and gently squeeze cloth to create a light lather. Use one cloth for each area of the body in the order listed and then discard: (1) face, neck and chest, (2) right arm, (3) left arm, (4) right leg, (5) left leg, (6) back, (7) buttocks, and (8) perineum.
Do not flush bathing cloth. Before using this product, test wet cloth temperature for excessive heat. Remember medical gloves diminish sensitivity to temperature. When using product with infants or with unresponsive or skin-sensitive individuals, closely monitor water heat levels. Store cloths in a cool, dry place. Do not leave cloths in tub or shower. For external use only. For individual use only. Keep out of reach of children.