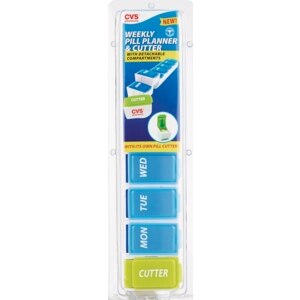 CVS Weekly Pill Planner & Cutter
With detachable compartments. CVS pharmacist recommended. With its own pill cutter! Not only does this innovative CVS/pharmacy Weekly Pill Planner & Cutter help encourage patient pill compliance, it features a built-in pill cutter to give extra flexibility. Made in China.
To Detach: Simply slide the desired compartments apart by pulling up on one side and holding the other side in place. To Reattach: Line up the bottom groove of the detached compartments with the interlocking groove of the other compartment. Simply push down and slide together to re-attach. Pill Cutter: Open the top of the pill cutter lid. Place pill in V shaped cradle. Push down on pill cutter lid with a swift downward motion. Open lid and remove split pill. Can be used as part of entire pill planner or as a separate stand alone unit. Not applicable for all pills. Made in China.