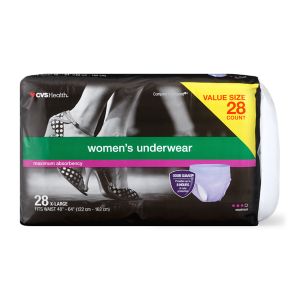 CVS Women's Underwear Maximum Absorbency X-Large (48-64 Inches)
Fits waist 48 inches to 64 inches. Compare to Depend (Depend is a registered trademark of Kimberly-Clark Worldwide, Inc. CVS is not affiliated with Kimberly-Clark Worldwide, Inc.). Locks away wetness & odor. Breathable, quiet & soft. Targeted absorbency. Easy to use. For your active lifestyle. Feels & fits like regular underwear. Absorbent material shifted back for better protection. Printed size on back label. Thin core. Easy to use: Gentle leg elastic helps provide a close fit for secure protection. No latex. 100% satisfaction. CVS quality.
Do not flush. Position underwear with the colored label at the back. Pull the product on like underwear. To remove slip off like regular underwear or tear sides at the seam. Dispose of in a sanitary manner.
Protective underwear - like most articles of clothing - may burn if exposed to flame or other source of ignition. Keep plastic bags away from children and pets. Bladder and bowel control problems can be treated medically. Consult your physician for additional information. Do not flush.