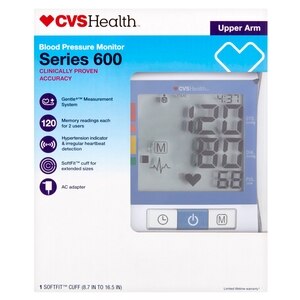 CVS/pharmacy Advanced Automatic Blood Pressure Monitor
Model No. BP3MV1-3WCVS No. 800230. 8.7 to 16.5 inch. Clinically proven accuracy (British Hypertension Society A/A Grading). 120 memory readings per user. Designed for up to 2 users. Hypertension indicator. Irregular heartbeat detection. AC adapter. Automatic inflation/deflation. Lifetime warranty. CVS/pharmacy Premium Blood Pressure Monitor works automatically to accurately measure and record blood pressure for up to 2 users with just a touch. The monitor includes a number of features, including an AC adapter to use your monitor wherever there is an outlet. Featured Benefits: 1. 120 memory readings per user; 2. Stores memory for up to 2 users; 3. AC adapter; 4. Easy-to-read LCD screen; 5. Hypertension indicator; 6. Irregular heartbeat detection; 7. Medication alarm; 8. SoftFit cuff for arms 8.7 inch - 16.5 inch; 9. PC compatible; 10. Averaging capability; 11. Automatic inflation/ deflation; 12. 1-touch operation; 13. Time and date tracker; 14. Adjusts pressure for personalized reading; 15. Latex free. Advanced Technology: The Hypertension Indicator uses a bar on the display to show your blood pressure as Normal, Pre-Hypertension (a potential for high blood pressure, Stage 1 (moderately high) or Stage 2 (extremely high blood pressure). The Irregular Heartbeat Detector works while the blood pressure is being measured to detect possible irregularities with your heartbeat. If detected, a symbol will appear next to your blood pressure. Talk to your doctor if you think you have hypertension or an irregular heartbeat. We're Here to Help!: Call toll free 1-866-464-6184 or visit www.cvs.com for more information. CVS/pharmacy automatic blood pressure monitors offer accurate readings in the comfort of your own home, so you can track your own blood pressure and manage your overall health. This Premium Blood Pressure Monitor includes: Storage case; Quick start guide; Quick reference guide; 4 AA batteries; AC adapter; instruction manual. The British Hypertension Society (BHS) is the top international council to offer ratings on blood pressure monitors. The A/A rating is the highest rating available from the BHS for upper arm and wrist monitors. (Product using identical technology was tested by unaffiliated researchers. See www.bhsoc.org for more information.) www.cvs.com. CVS quality. Please recycle. Made in China.
Step 1: Make sure the cuff tube is securely connected to the monitor. Step 2: Side the cuff into your arm until the bottom edge is about 1/2 inch above your elbow. Tighten the cuff until it is snug against your arm without being too tight. Step 3: Rest your arm and push Start button. Cuff Sizing: The proper fit is essential for accurate blood pressure readings. The average size for women's arms is 11 inch and the average for men's arms is 13 inch. This cuff can accommodate 8.7 inch to 16.5 inch arms to fit most adults. Complete instructions included. Read instructions carefully before use.
Not for use on children 12 years of age or younger.