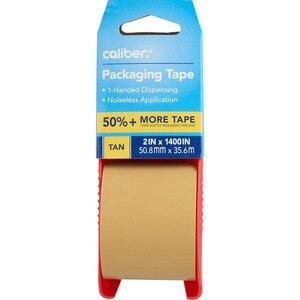 Caliber Packing Tape, Tan
2 in. x 1400 in. Over 100 feet long. One-handed dispensing, Noiseless application. The original one arm bandit. Amazing one handed dispenser. www.cvs.com. Easy as 1, 2 3. Ergonomic ease. Always ready to apply. Compact for EZ storage. EZ to Load, EZ release. Smooth and noiseless. Made in China.
1. To start a new roll, pull the printed layer of tape beyond the blade and behind the tape guides. 2. To cut the tape, gently squeeze the sides of the dispenser (maintain tape tension) and twist your wrist. This will lock the tape onto the tape guides. 3. Tape is now set in the guides and will require only one hand to apply.