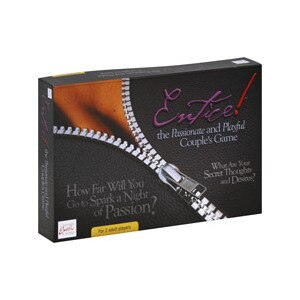 California Exotic Novelties Entice The Passionate and Playful Couple's Game
For 2 adult players. The passionate and playful couple's game. How far will you go to spark a night of passion? What are your secret thoughts and desires? Be the first to move around the Entice game board to the climax finish space by answering questions about sex, romance and relationships. Get hot, Entice! Contents: 55 purple Male Entice cards; 55 green Female Entice cards; 25 red Get Hot cards; 1 game board, 2 playing pawns, 1 six-sided die, 1 rule sheet. Contents of this game may vary. Sold as a novelty only. Contents of this game may vary. Manufactured in China.
This game contains small pieces that may be a choking hazard for small children or pets.