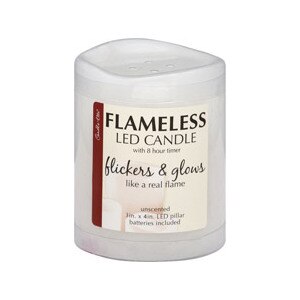 Candle-Lite Flameless LED Candle with 8 Hour Timer Unscented
3 in x 4 in. LED pillar batteries included. With 8 hour timer. Flickers & glows like a real flame. enjoy the warm atmosphere of a burning candle without an open flame. What's our secret? LED is precisely placed & programmed to create a flickering effect that cast dancing shadows just like a real flame. Candle-Lite: Manufacturing quality candles in the USA since 1840. Made in China.
Keep out of reach of children and pets. Do not open any part of the candle except to replace the battery. Place candle on a non-flammable protected surface. Never burn a real candle within the candle frame. Store in a cool dry place. For indoor use only. Uses 2 AA batteries; child-safe battery compartment. Time feature - once turned on candle will shut off after 8 hours and turn on the same time the next day.