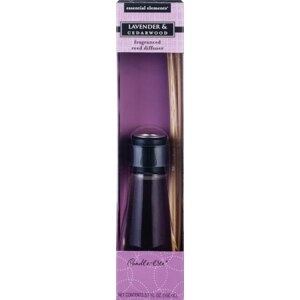 Candle-Lite Fragranced Reed Diffuser Lavender & Cedarwood
Essential oils of Lavender and Cedarwood, both used the world over to calm restless minds, blend together to create a beautifully soothing floral-woody fragrance. Made in China.
Create a fragrance background in your home with the long-lasting aroma created the Reed Diffuser. Remove cap from glass container and discard. Insert reeds into the neck of the bottle. Allow 48 hours for fragrance to fully develop. Turn the botanical reeds around and place the opposite ends inside the bottle for more fragrance. Repeat this process as necessary. Handle with care. Always grasp by the bottle.
Use for fragrance purposes only. Keep out of reach of children and pets. Non-edible and non-toxic. Do not use on unprotected surfaces, as fragrance oil will damage furniture, fabrics painted surfaces, wood, or plastic.