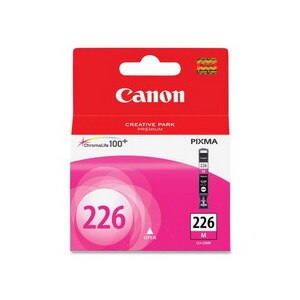 Canon 226 M Magenta Ink Tank
ChromaLife 100+. Creative park premium. For Pixma series: iP4820/iX6520, MG5120/MG5220, MG6120/MG8120, MX882. Made in Japan.
As shown in Fig. 1, completely remove the tape 1, then the film 2. As shown in Fig. 2 and Fig. 3, twist and then slowly remove the cap without covering the L-shaped air outlet. As shown in Fig. 4, do not allow contact with the inside of the cap or the opening of the tank. Please note that ink may leak if the procedure is not performed in this order. After unsealing, promptly install in the printer, and use up all of the ink within 6 months to obtain the best quality. Refer to the user's manual provided with the printer for information on how to install the ink tank and for other precautions. Store in a location out of the reach of children. Storage Temperature: -22 to 104 degrees F (-30 to 40 degrees C).