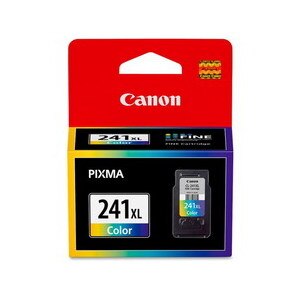 Canon 241XL Color Ink Cartridge
Full-photoligraphy inkjet nozzle engineering. For: Pixma MG2120, MG3120, MG 4120. Made in Japan.
Do not open until you are ready to use. After opening, gently remove the protective tape (Fig. 1, 2) and then immediately install in the printer. Do not touch the electrical contacts (Fig. 3). To obtain the best print quality, store the box upright and use up all ink within 6 months after opening. For information on how to install and other precautions, refer to the user's manual provided with the printer. Store in a location out of the reach of children. Storage Temperature: -22 to 104 degrees F (-30 to 40 degrees C).