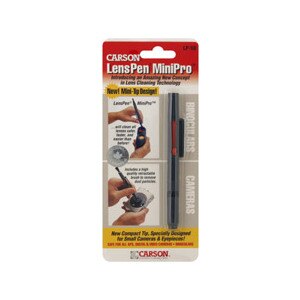 Carson LensPen MiniPro Lens Cleaning System
Introducing an amazing new concept in lens cleaning technology. Mini-tip design! LP-50. Will clean all lenses safer, faster and easier than before! Includes a high quality retractable brush to remove dust particles. New compact tip, specially designed for small cameras & eyepieces! Safe for all APS, digital & video cameras, binoculars. LensPen MiniPro is a compact, easy to use, yet highly efficient camera lens cleaning system specially designed for the small lenses found in APS, Digital, & Video cameras, pocket binoculars, and small eyepieces. It employs a revolutionary non-liquid compound that will not spill or dry out. and outperforms all other cleaning systems. Safe and easy to use on all lenses. Reduces static charge build-up. Natural-hair brush included for dust removal. Outperforms all other cleaning systems. Compact, fits easily into camera bag, purse or pocket. This quality lens cleaning instrument is manufactured in a clean room environment to assure that the cleaning tip of the LensPen MiniPro is free of any unwanted hard particles when purchased. For maximum performance and safety to the lens, use LensPen MiniPro according to instructions provided. Made in China.
1. Extend brush and wipe away any dust or grit particles, such as sand. Now, retract the brush. 2. Remove cap and place on brush end to expose cleaning tip. Wipe away any smudges with a smooth circular motion. 3. Replace the cap and turn half way. This replenishes the magic of the LensPen MiniPro. NOTE: In case of hardened deposits, breathe lightly on lens, then wipe off completely with LensPen MiniPro.
LensPen MiniPro is intended for cleaning of photographic, video, and binocular lenses only! Careless use may cause damage to lens coating.