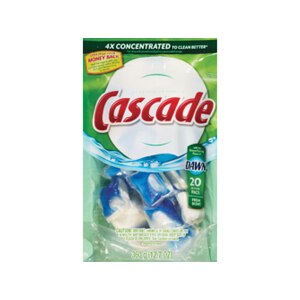 Cascade 4X Concentrated Dishwasher Detergent Action Pacs, Fresh Sent
Cleans so well, no need to prewash. With the power of Dawn. 2 Powerful brands.1 Complete clean. Cascade with Shine Shield helps stop permanent damage before it can start. Etching is the permanent cloudiness on the surface of glassware. With regular use and proper dosing, Cascade with Shine Shield neutralizes the harsh effects that can cause etching. With Dawn grease fighting power. Fast-acting formula activates on contact to quickly and easily clean tough grease. Phosphorus Content: This Cascade formula averages no more than 8& phosphorus, in the form of phosphates, which is equivalent to 1.1 g per tbsp. Safe for septic tanks. Made in USA.
To use: One concentrated pouch = one load. 1. Do not unwrap or puncture pouch. 2. Handle with dry hands only. 3. Place pouch into main dispenser cup and close immediately. 4. Reseal bag after each use.
Irritant. Harmful if swallowed or put in mouth. May irritate eyes or skin. Keep out of reach of children. Do not get in eyes. Do not get on skin or clothing. First Aid Treatment: Contains sodium carbonate, sodium silicate and enzymes. If swallowed, give a glassful of water or milk and call a Poison Control Center or doctor immediately. Do not induce vomiting. If in eyes, rinse with water for 15 minutes. If on skin, rinse well with water.