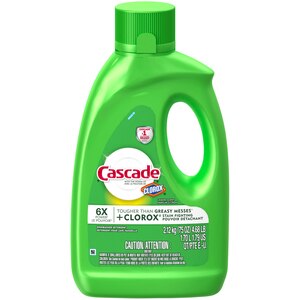 Cascade Dishwasher Detergent Lemon Scent
With the grease fighting power of Dawn. Our shine formula provides excellent shine for your glasses. Rinses away clean and fast. Safe for septic tanks. Phosphate free (0% sodium tripolyphosphate).
Contains Sodium Carbonate, Sodium Hydroxide, Sodium Silicate and Chlorine Bleach.
For Best Results: Fill both cups completely. Use more for hard water. Do not spill on fabric. Contains chlorine bleach.
Dangerous fumes form when mixed with other products. Do not mix with dishwashing liquids, ammonia, or other cleaning products. Do not get in eyes. Do not get on skin or clothing. Do not breathe fumes. Keep out of reach of children. Do not let young children use bottle or touch product in dishwasher. Not for hand dishwashing. Do not reuse bottle. Screw on protective cap tightly after use. First Aid Treatment: If swallowed or gets in mouth, rinse mouth, give a glassful of water or milk and call a Poison Control Center or doctor immediately. Do not induce vomiting. If in eyes, rinse with water for 15 minutes. If on skin, rinse well with water.