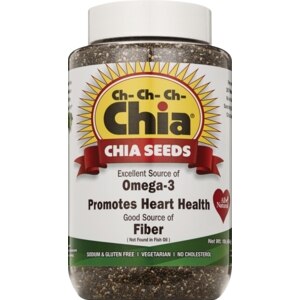 Ch-Ch-Ch-Chia Omega-3 Chia Seeds
All natural. A tiny seed full of power. Excellent source of ALA omega-3. Excellent source of fiber, calcium & iron not found in fish oil. ALA omega-3 promotes heart health. Fiber promotes digestive health. Calcium promotes strong bones. Scoop included. Sodium & gluten free. Vegetarian. Kosher. No cholesterol. Chia has been used traditionally for over 3000 years. Ancient Aztec warriors prized Chia as a Superfood. Ch-Ch-Ch-Chia Omega-3 Chia Seeds have a neutral flavor. Easily added to food and drinks without altering flavor. Ch-Ch-Ch-Chia Omega-3 Chia Seeds per serving contain more omega-3 than walnuts; more calcium than mozzarella cheese; more fiber than bran flakes; more iron than raw spinach (Source: USDA Nutrient Database for Standard Reference). From the makers of Chia Pet. NSRI Approved: Nutritional Science Research Institute.
Contains 100% Chia Seeds (Salvia Hispanica).
No refrigeration required. Store in dry places. Recipe Ideas: Stir 2 scoops of the seeds into your favorite drink or smoothie.
Packed in a facility that also packs milk, egg, wheat and soybean products. If you are pregnant or nursing, taking medication, facing surgery, have bleeding problems or undergoing any other treatment which may affect the ability of blood to clot, consult your physician before taking this product. Keep out of reach of children. Use only if seal is not broken.