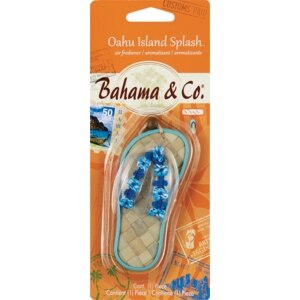 Oahu island Splash Bahama & Co Beach Breeze Air Freshener
Great smelling, long lasting, island-inspired fragrances
Contains revolutionary odor-eliminating technology
Hang from rear-view mirror or anywhere that you want to look & small great!
Remove air freshener and hang freely in desired location. To avoid staining, avoid contact with vinyl, leather, wood, plastic or any finished surface.
Scented oils can stain. Consult state laws before hanging any product from rear-view mirror.
CAUTION: KEEP OUT OF REACH OF CHILDREN AND PETS. Avoid contact with mouth or eyes.