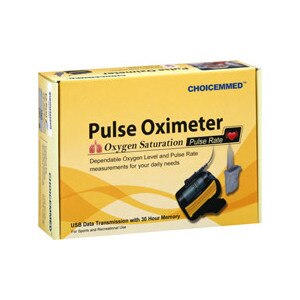 ChoiceMmed Pulse Oximeter
Oxygen saturation. Pulse rate. Dependable oxygen level and pulse rate measurements for your daily needs. USB data transmission with 30 hour memory. For sports and recreational use. EZ-Read: High-definition display; Adjustable brightness. Comfort-Fit: Soft silicone padding; Strong slip resistant clip; Non-invasive. No pricking! 1 year warranty. One button operation. Automatic power off. Includes: Pulse oximeter; 1 AAA battery; User manual. Free: USB cable; Software CD. CE listed. Made in China.
For best results, keep hands still while taking a reading.
Fingernail polish and acrylic nails results in inaccurate readings.