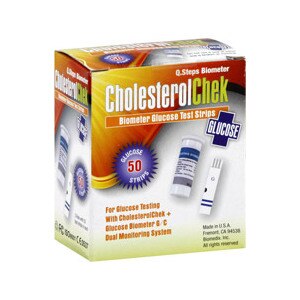 Cholesterol Biometer GlucoseTest Strips
For glucose testing with CholesterolChek + Glucose Biometer G/C Dual Monitoring System. 2 vials with 25 test strips in each. We are glad that you have chose CholesterolChek Test Strips. CholesterolChek is dedicated to helping you manage your diabetes. No need to refrigerate. ISO 9001. CE listed. Made in USA.
In order to keep our product in the optimum condition, please store the Test Strips in temperatures below 86 degrees F (30 degrees C). Please use within 3 months of opening Test Strip Vials.
Do not use if seal at either end is broken or missing. Do not use if expiration date has passed.