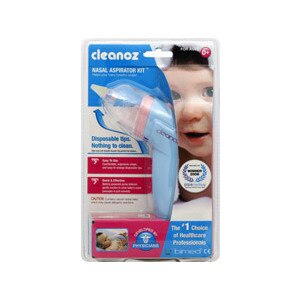 Cleanoz Nasal Aspirator Kit
Helps your baby breathe easier! For ages 0+. Disposable tips. Nothing to clean. Safe and soft flexible nozzle tip perfect for babies. Easy to use. Comfortable, ergonomic shape, and easy-to-change disposable tips. Quick & effective. Battery-powered pump delivers gentle suction to clear baby's nasal passages in just seconds. Winner 2008 ptpamedia, because parents know best. Developed by physicians. The no. 1 choice of healthcare professionals. CE listed. Kit Includes: nasal aspirator; three (3) disposable reservoir tips; hygienic travel carry bag; three AAA batteries; user manual. Makes a perfect baby shower gift! A few seconds are sufficient to clear baby's nasal passages. Gentle, progressive suction from battery-powered pump. No clean up afterwards. Just toss away Disposable Tips. Ergonomic design is easy to handle. Babies love the soft, flexible nozzle tips. The modern breathe-easy solution. Gone are the days of bulbous syringes that are awkward to hold, difficult to use and unsanitary. Now there is an easier way. Cleanoz was developed by a physician for the special needs of newborns, infants and small children. Its features are designed to make breathing easier by providing a fast, efficient, safe way to clear baby's nasal passages. Ubimed is dedicated to creating, designing and manufacturing the highest quality, innovative products to meet the healthcare needs of you and your family. Safe flexible silicone tip. No clean-up necessary. disposable tips. Large one-touch On/Off button. . Economically designed handle is easy to hold and to use. Batteries included. Nozzle tips have been tested by the North American Science Association, Inc. (NAMSA). To ensure safety, the dolphin-shape product is designed with soft round edges. Its battery compartment is secured with a protective screw. Alkaline batteries 3 x 1.5 VDC type AAA/LR03. Made in China.
3 Easy Steps: 1. Insert disposable tip into Cleanoz nozzle. 2. Clear baby's nose. 3. Dispose of reservoir nozzle piece after use.
Contains natural rubber latex, which may cause allergenic reactions. Batteries must be recycled or disposed properly. For household use only.