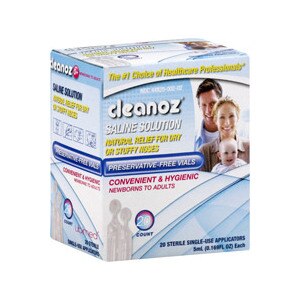 Cleanoz Saline Solution Preservative-Free Vials
Newborn to adults. Sterile single-use applicators. The No. 1 choice of healthcare professionals. Natural relief for dry or stuffy noses. Preservative-free vials. Convenient & hygienic. Manufactured in France.
Active Ingredient: Sodium Chloride (0.9%). Inactive Ingredient: Purified Water.
Twist and pull tab to remove. Tilt on the applicator to obtain the necessary dosage. Directions for use for babies and infants: Place baby with its head leaning to the side. Place carefully the tip of the applicator in one nostril. Tilt to obtain the necessary dosage. Repeat on the other nostril. Use as often as needed for any length of time or as directed by physician. Non habit forming. Store at 68-77 degrees F (20-25 degrees C). Retain this carton for future reference.
For external use only, do not inject. Do not use if solution changes color or becomes cloudy. When using this product se only if applicator is intact; to avoid contamination, do not touch tip of the container to any surface; do not reuse. Once opened, discard; do not use the same applicator on different people. Keep out of reach of children.