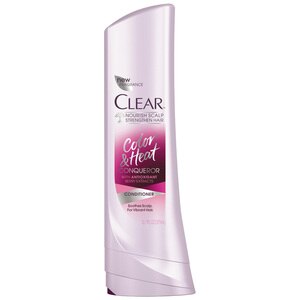 Clear Scalp & Hair Therapy Nourishing Anti-Dandruff Conditioner Damage & Color Repair
Nourishes scalp, for strong beautiful hair. Nutrium 10. Ten vitamins & nutrients. The essential source of hair''s natural nourishment is the scalp. Clear Scalp & Hair Therapy with enriched Nutrium 10 technology, a rich blend of vitamins and nutrients, provides active nourishment of scalp and hair in every wash. Nutrium 10 Scalp & Hair Care System: Clinically proven to restore scalp''s natural moisture balance (When using shampoo and conditioner). Leaves hair strong and beautiful from root to tip. Damage & Color Repair proven color-safe. Advanced protection from damage [refers to (visible) signs of damage]. Made in USA.
Scalp & Hair Regimen for Damaged & Colored Hair: 1. Cleanse. 2. Nourish. 3. Treat. 4. Repair. After shampooing, gently massage into scalp to lock in nourishment. Apply to hair all over and rinse off for visibly, healthy hair.