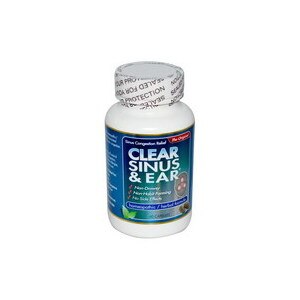 Clear Sinus & Ear Capsules
Homeopathic/Herbal Formula. Sinus congestion relief. The original. Non-drowsy. Non-habit forming. No side effects. All natural. Clear Sinus & Ear is a unique homeopathic/herbal proprietary blend specifically formulated for the temporary relief of sinus and ear congestion related conditions. Clear Sinus & Ear is an exciting, all natural breakthrough for sufferers of sinus congestion, hay fever, cold/flu symptoms, airborne allergies, ear pain and tenderness and swimmers ear. Used by: pilots, flight attendants, scuba divers, swimmers. All natural relief for: hay fever, allergies, cold/flu symptoms, swimmers ear.
Active Homeopathic Ingredients: Pulsatilla 3X, Euphorium 6X, Hepar Sulphuricum 3X, Calcarea Carbonica 3X. Other Ingredients: (Herbal Extracts) Pueraria Root, Angelica Root, Peony Root, Magnolia Flower, Platycodon Root, Coix Seed, Ginger Root, Perillia Leaf, Siler Root, Scutellaria Root, Cinnamon Bark, Licorice Root.
Take 2 capsules three times per day as needed or as directed by your health care practitioner. Take with food. Do not exceed 12 capsules in a 24 hour period.
If symptoms do not improve or are accompanied by a fever, consult a doctor. If you are pregnant, nursing, taking medication, or have a medical condition, consult your physician before taking this product. Do not take if you are on anticoagulants or antiplatelet therapies, blood pressure or heart medications. Keep this and all other medications out of reach of children.