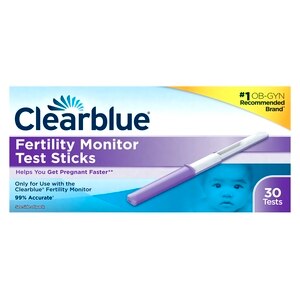 Clearblue Fertility Monitor Test Sticks
You May Also Like
Size: 1.41 OZ

$21.99

($15.60 / oz.)
ClearBlue Fertility Monitor Test Sticks
Number 1 brand recommended by OB/Gyns

The ClearBlue Fertility Monitor Test Sticks are designed to work with the ClearBlue Fertility Monitor. No other type of test stick can be used with the fertility monitor. This package contains 30 Fertility Monitor Sticks, a three-month supply.
Features:
Typically identifies up to 6 fertile days
Detects both LH and estrogen hormones
100% natural and non-invasive
Suitable for women with regular and irregular cycles
99% accurate at detecting the LH surge
Include 30 individually wrapped test sticks
Electronic, hand-held monitor tracks a woman's personal cycle
Testing can be done at home and at a fraction of the cost
Stores information for up to six previous menstrual cycles
Quick, easy to use, and easy to understand
English and Spanish instructions inside. Made in China.
Please read the enclosed instruction insert before using the test sticks.
Store in a dry place below 86 degrees F (30 degrees C).
Do not freeze. For in vitro diagnostic use.
Not for internal use. Keep out of reach of children.