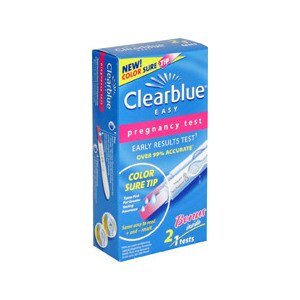 Clearblue Easy Pregnancy Test
Color sure tip. Turns pink for greater testing assurance. Same easy to read + and - result. Early results test. (When compared to most other pregnancy tests that can be used from the day you expect your period. In clinical testing, Clearblue Easy detected the hormone levels in 53% of pregnant women 4 days before, in 74% of pregnant women 3 days before, 84% of pregnant women two days before, and 87% of pregnant women 1 day before their expected period.) Over 99% accurate. (99% Accurate at detecting typical pregnancy hormone levels. Note that hormone levels vary.) Unipath Research is a team of over 100 scientists and technicians dedicated to proving quality diagnostic tests that you can rely on. Every Clearblue Easy test passes the most rigorous quality examination. Made in the UK.
Read instructions in full before use. 1. Easy: Hold the Color Sure Tip in your urine stream for 5 seconds. The Color Sure Tip will have turned completely pink showing that enough urine has been absorbed. 2. Clear and Accurate: In 2 minutes, the result window will show a clear plus or minus result. Plus = pregnant. Minus = not pregnant. Store at 36-86 degrees F (2-30 degrees C). Do not freeze. For in-vitro diagnostic use only (not for internal use).
Keep out of reach of children.