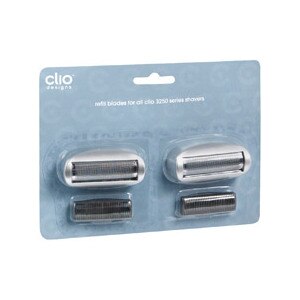 Clio Refill Blades Men's Rb3250
Refill blades for all Clio 3250 series shavers.
HOW TO CHANGE THE BLADES AND FOIL: 1. Make sure the shaver is turned OFF. 2. Locate the small arrow that is pointing up in the shaver cover (which holds the foil). Press the button located below the arrow in order to release and remove the shaver cover. 3. With your index finger and thumb on the sides of the blade assembly carefully remove by pulling upward gently. A small spring is located underneath the blade assembly and may pop out when removing the blade assembly. 4. Discard shaver cover and blade assembly. 5. Take a new spring from the pack (if existing spring is lost or damaged) and insert it into the white post. 6. Place a new blade assembly over the white post and press gently (on the sides of the blade assembly ONLY) until the blade assembly snaps firmly into place. 7. Place a new shaver cover over the blade assembly and lock into place. The shaver cover will only fit onto the shaver in one direction. IMPORTANT: Be sure to replace the shaver cover at the same time the blades are replaced.
Use caution when replacing blades as they may be sharp and cause injury.