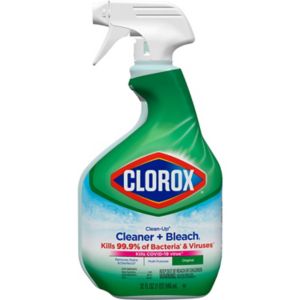 Clorox Clean-Up Cleaner With Bleach
Kill germs on hard, nonporous surfaces: salmonella choleraesuis, cold virus, flu virus.
Active Ingredients: Sodium Hypochlorite (1.84%), Other Ingredients: (98.16%). Yields (1.75%) Available Chlorine, Proporciona (1.75%).
It is a violation of Federal law to use this product in a manner inconsistent with its labeling. Use only in ventilated areas. Before use, open windows and turn on fan. If vapors bother you, leave room while product is working. Avoid contact with clothes, fabric, wood, rubber, and painted and paper surfaces. Prolonged contact with metal, old porcelain or worn plastic laminate may cause discoloration. To Clean and Disinfect Hard, Nonporous Surfaces: Spray product 4-6 inches from surface until thoroughly wet. Let stand 30 seconds. Rinse or wipe clean. For heavily soiled surfaces, preclean surface before disinfecting.
Precautionary Statements: Hazards to humans and domestic animals. Avoid contact with eyes. Keep out of reach of children. First Aid: If in Eye: Hold eye open and rinse slowly and gently with water for 5 minutes, then continue rinsing eye. Call a poison control center or doctor for treatment advice. Have the product container or label with you when calling a poison control center or doctor or going for treatment. Physical or Chemical Hazard: Combustible: Do not use or store near heat or open flame.