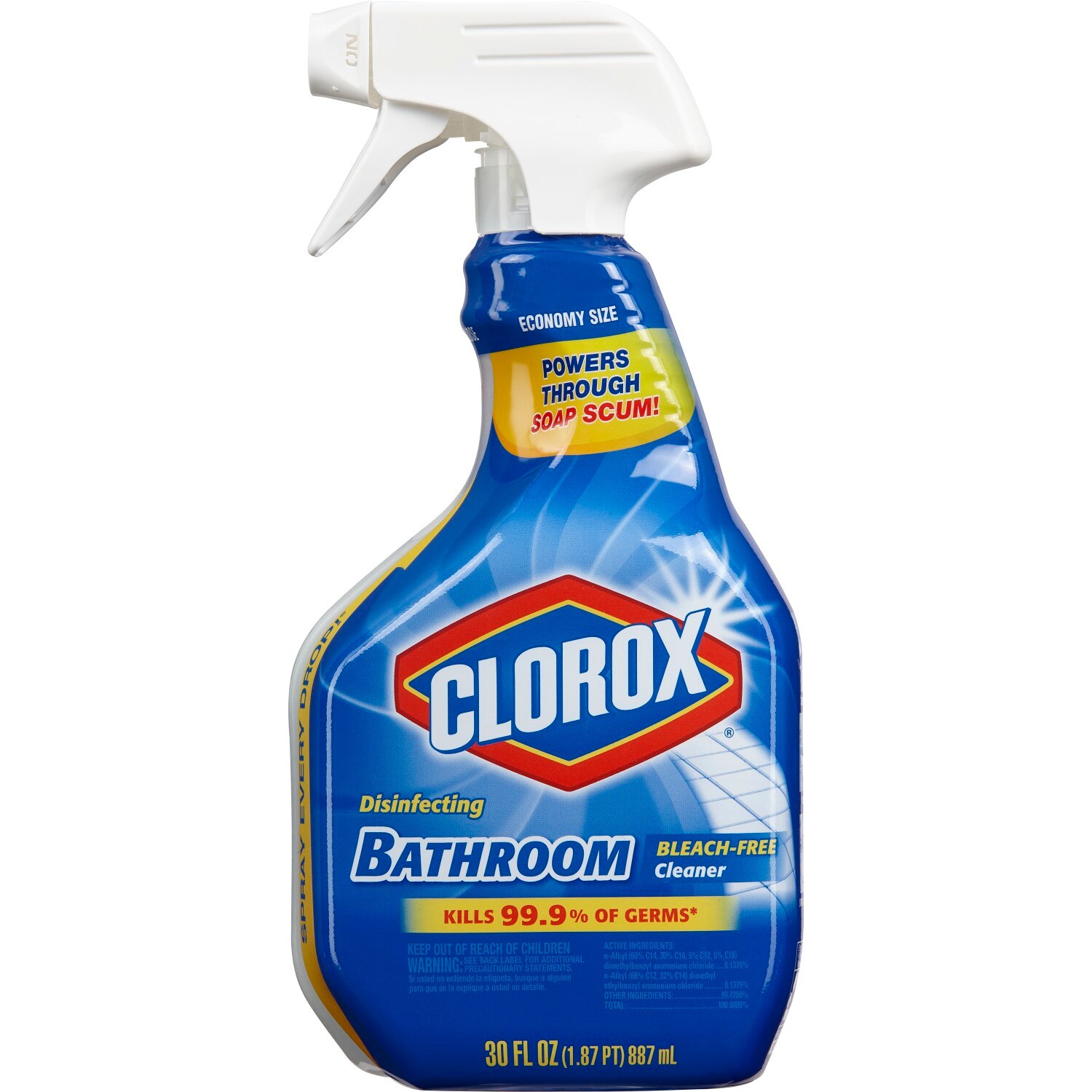 Clorox Disinfecting Bathroom Cleaner Bleach Free
Powers through soap scum. Kills 99.9% of germs. Bleach-free. Toilet. Shower. Sinks. Kills 99.9% of household germs (salmonella choleraesuis, staphylococcus aureus and influenza A virus [Hong Kong])! Removes tough soap scum without scrubbing! Contains no phosphorus. Made in the USA.
Active Ingredients: N-Alkyl (60% C14, 30% C16, 5% C12, 5%C18) Dimethylbenzyl Ammonium Chloride (0.1375%), N-Alkyl (68% C12, 32% C14) Dimethyl Ethylbenzyl Ammonium Chloride (0.1375%). Other Ingredients (99.7250%).
It is a violation of Federal law to use this product in a manner inconsistent with its labeling. To Clean and Deodorize: Rotate nozzle to foam or to spray. Spray 6-8 inches from the surface and allow product to penetrate dirt and soap scum. Wipe with a wet sponge or cloth and rinse with water. No scrubbing required. For tougher jobs, use foam option. Spray and let product stand on surface for several minutes before wiping. For beset results, use regularly to prevent soap scum buildup. To Disinfect: Throughly clean the surface to be disinfected by following the above directions (remove excess dirt first in heavily soiled areas); reapply, spraying entire surface until completely wet. Let stand 10 minutes before wiping. Use on the Following Hard, Nonporous Bathroom Surfaces: glazed ceramic tile, shower doors, outside of toilet, plastic, chrome, fiberglass, glazed porcelain and synthetic marble. Do not use on natural marble, brass or varnished wood. Spot test all other surfaces in an inconspicuous area. Storage and Disposal: Keep container closed. Store in the original container in an area inaccessible to children and pets. Offer empty container for recycling. If recycling is not available, discard container in trash.
Hazards to humans and domestic animals. Causes substantial but temporary eye injury. Harmful if absorbed through skin. Avoid breathing spray mist. Do not get in eyes, on skin or on clothing. Wear safety glasses or goggles. Wash thoroughly with soap and water after handling. Remove contaminated clothing and wash before reuse. First Aid: If in Eyes: Hold eye open and rinse slowly and gently with water for 15-20 minutes. Remove contact lenses, if present, after the first 5 minutes, then continue rinsing eye. If on Skin or Clothing: Take off contaminated clothing. Rinse skin immediately with plenty of water for 15-20 minutes. If Swallowed: Have person sip a glass of water if able to swallow. Call a poison control center or doctor for treatment advice. Have the product container or label with you when calling a poison control center or doctor or going for treatment. Physical and Chemical Hazards: Do not use or mix with bleach-containing products. To do so will release hazardous gases.