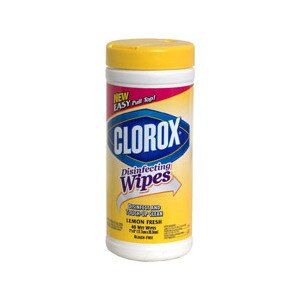 Clorox Disinfecting Wipes Lemon Fresh
7 x 8 inch. Bleach-free. Easy pull top! One step cleaning and disinfecting. Clorox Disinfecting Wipes are the quick and easy way to clean and disinfect household surfaces. Use Clorox Disinfecting Wipes throughout the house, kitchen and bathroom on hard, non-porous surfaces. Touch-up clean anytime. Easy. Bleach-free formula. Convenient. Kitchens - sinks, drain boards, cabinets, countertops, stoves, refrigerators, faucets, appliances, and floors; Bathrooms - basins, toilet seats and rims, tubs, showers, hampers, and tiled walls; General Use - telephones, doorknobs, pet areas, computer keyboards, diaper pails, and playpens. Not recommended for use on unpainted wood or glass.
Active Ingredients: N-Alkyl (C14 [60%]; C16 [30%]; C12 [5%]; C18 [5%]) Dimethyl Benzyl Ammonium Chloride (0.145%), N-Alkyl (C12 [68%]; C14 [32%]) Dimethyl Ethylbenzyl Ammonium Chloride (0.145%). Other Ingredients: (99.710%).
It is a violation of Federal law to use this product in a manner inconsistent with its labeling. To Open Package: Flip open dispensing flap and remove lid by lifting upward. Pull up corner of center sheet, twist to a point, and thread through small opening in lid. Do not push finger through opening. Replace lid and pull wipe at an angle, the next sheet pops up automatically. When finished, close lid flap to retain moisture. To Disinfect: Kills many bathroom and kitchen bacteria (Staphylococcus aureus [Staph] and Salmonella choleraesuis (Salmonella)] on hard, non-porous surfaces. Wipe surface to be disinfected with Clorox Disinfecting Wipes. Allow surface to remain wet for 10 minutes before use. Let surface dry. For highly soiled surfaces, clean excess dirt first. To Clean: Wipe surface clean with Clorox Disinfecting Wipes. Let air dry. Clorox Disinfecting Wipes will not harm most surfaces, including acrylic, fiberglass and vinyl. Not for personal cleaning.
Hazards to humans and domestic animals. Causes moderate eye irritation. Avoid contact with eyes or clothing. Wash thoroughly with soap and water after handling. First Aid - If in Eyes: Flush with plenty of water. Call a physician if irritation persists. If on Skin: Wash with plenty of soap and water. Get medical attention if irritation persists. Physical or Chemical Hazards: Do not use or store near heat or open flame. Storage/Disposal: Dispose of wipe in trash after use. Do not flush. Tightly close lid between uses to retain moisture. Do not reuse empty container. Offer empty container for recycling. If recycling is not available, discard container in trash.