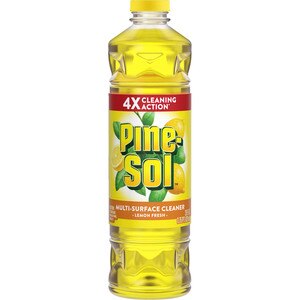 Clorox Pine Sol All Purpose Lemon Fresh Cleaner
The power of Pine-Sol. The smell of clean! Cuts grease and grime. Deodorizes. Shines. Where to Use: Floors, walls sinks and range hoods; Stoves, refrigerators, microwaves and more; Tubs, showers, floors and toilet bowls; Garbage cans, pet areas and diaper pails. Contains biodegradable cleaning agents. Contains no phosphorus. Made in U.S.A.
General Cleaning and Floors: Use 1/4 cup per gallon of water. Usually no rinsing required. Tough Jobs: Use full strength and rinse immediately. Not recommended for wood floors. For painted surfaces, test a small area first.
Precautionary Statements: Eye irritant. May cause skin irritation. Do not get in eyes. For sensitive skin or prolonged use, wear rubber gloves. First Aid: Eyes - Immediately rinse for 15 minutes. If irritation persists, call a doctor. If Swallowed - Drink a glassful of water. Call a doctor or poison control center. Keep out of reach of children. Skin - Rinse with plenty of water. Contains: Alkyl Alcohol Ethoxylates, Monoethanolamine. Container Disposal: Offer empty container for recycling. If recycling is not available, discard container in trash.