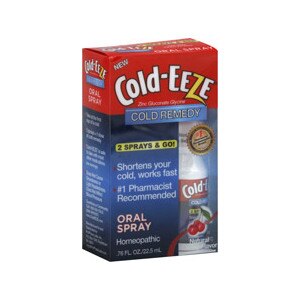 Cold-EEZE Cold Remedy Oral Spray
Homeopathic. Zinc gluconate glycine. No. 1 pharmacist recommended brand. Pharmacy Times. OTC Master's Circle Achievement Award. 2 sprays & go! Shortens your cold, works fast. No. 1 pharmacist recommended. Take at the first sign of a cold. 2 sprays = 1 dose of cold remedy. Cold-Eeze is safe to take with most other medications (see warnings). Does not cause drowsiness or light headedness. Does not affect blood pressure. No artificial colors. Convenient size - 2 sprays and go!
Active Ingredient (2 sprays): Zincum Gluconicum 2x (13.3 mg). Inactive Ingredients: Benzalkonium Chloride, Glycerine, Glycine, Maleic Acid, Natural Flavors, Sucralose and Water.
Each bottle contains at least 90 sprays = 45 doses. Adults and children 12 years and over: for best results, begin treatment at start of symptoms (within 24-48 hours of onset); spray 2 times in mouth at the onset of symptoms on inside of cheeks, roof of mouth and gums (Retain for 15 seconds. Swallow); repeat every 2-4 hours as needed until all symptoms subside; up to 12 sprays (6 doses) per day. For children under 12 years of age, consult a healthcare practitioner prior to use. Avoid possible minor stomach upset - do not take on an empty stomach; do not eat or drink for 15 minutes after use; avoid citrus fruits or juices and products containing citric acid 1/2 hour before or after taking Cold-Eeze oral spray as it may diminish product effectiveness, otherwise, drink plenty of fluids. Store in a cool dry place after opening.
For oral use only. Avoid contact with eyes. In case of accidental contact with eyes, flush with water and immediately seek professional help. Ask a doctor before use if you: are taking minocycline, doxycycline, tetracycline or are on a Coumadin therapy, zinc treatment may inhibit the absorption of these medicines. Stop use and ask your healthcare practitioner if symptoms persist beyond 7 days. Cold-Eeze oral spray is formulated to reduce the duration of common cold symptoms and may be insufficient treatment for influenza or allergies. If pregnant or breast feeding, ask a healthcare practitioner before use. Keep out of reach of children. Packaged with tamper-evident bottle seal. Do not use if breakable wrap is separated or missing.