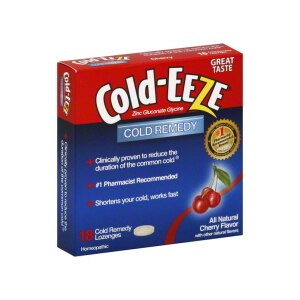 Cold-Eeze Lozenges All Natural Cherry
Homeopathic. Shorten your cold! Get better faster! Zinc, Gluconate, Glycine. Clinically proven to reduce the duration of the common cold. Pharmacist recommended No. 1 Achievement Award. (Pharmacy Times Survey of Pharmacists recommended Zinc Cold Remedy Lozenges). Clinically proven Cold-Eeze cuts colds almost in half. Effectiveness: Cold-Eeze, the original Zinc Gluconate Glycine formula, shown to be safe and effective in reducing the severity of symptoms by 42% and duration by 3 to 4 days in two double blind placebo controlled clinical studies. Cleveland Clinic Mossad et al., Annals of Internal Medicine, Vol. 125, No 2 July 15, 1996 Dartmouth College Godfrey et al., Journal of International Medical Research, Vol 20, No 3, June 1992. No artificial colors or preservatives.
Each 4.5 g Lozenge Contains: Active Ingredient: Ionic Zinc from Zincum Gluconicum (2X) (13.3 mg) [Zinc Gluconate Trihydrate (104 mg)] Equivalent to Zincum 3X. Inactive Ingredients: 4.49 g Including Corn Syrup, Fruit Extracts, Gluconic Acid, Glycine and Sucrose.
For maximum effectiveness start taking Cold-Eeze Cold Remedy Lozenges at the first sign of a cold. Best within 48 hours. Completely dissolve a Cold-Eeze Cold Remedy Lozenge in mouth. Do not chew. Repeat every 2 to 4 hours as needed. Continue until all symptoms have ended (See warnings). Recommended daily dosage of Cold-Eeze Cold Remedy Lozenges is 6 drops per day (79.8 mg zinc). To avoid minor stomach upset, do not take Cold-Eeze Cold Remedy Lozenges on an empty stomach. Do not eat or drink citrus fruits or juices 1/2 hour before or after taking Cold-Eeze Cold Remedy Lozenges. Otherwise, drink plenty of fluids.
Cold-Eeze Cold Drops are formulated to relieve cold symptoms and may be insufficient treatment for influenza. If symptoms worsen, or persist beyond 7 days, consult a physician. If pregnant or breast feeding, ask a health professional before use. Talk to your doctor or pharmacist for more information on whether Cold-Eeze is right for you and your family members.