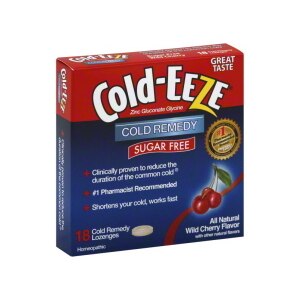 Cold-Eeze Sugar Free Cold Remedy Lozenges Natural Wild Cherry
With other natural flavors. Shorten your cold! Get better faster! Homeopathic. Clinically prevent or reduce the duration of the common cold. Sugar free. Zinc, gluconate, glycine. Pharmacist recommended: no. 1 achievement award. Zinc cold remedy. Pharmacy times survey. Clinically proven to cut your cold nearly in half. Two clinical studies have shown: Cold-Eeze proprietary formula reduces the duration and severity of colds by 42% or 3 to 4 days. The independent double blind studies were conducted at the Cleveland Clinic and Dartmouth College and published in peer reviewed journals. Mossad et. al, Annals of Internal Medicine Vol. 126, No 2 July 15, 1996 Godfrey et. al., Journal of International Medicine Research, Vol 20, No 3 June 1992. Cold-Eeze is safe to take with most other medications. It does not affect blood pressure cause drowsiness or light headedness. No artificial colors or preservatives. Gluten-free. Product may produce a laxative effect. Made in USA.
Active Ingredient (per Lozenge): Zincum Gluconicum 2x (13.3 mg). Inactive Ingredients: Acesulfame K, Glycine, Isomalt, Natural Flavors.
Adult and Children 12 Years and Over: For best results, begin treatment at start of symptoms (within 24 - 48 hours of onset). Repeat every 2 - 4 hours as needed until all symptoms subside. Completely dissolve a Cold-Eeze lozenge in mouth (do not chew). Recommended daily dosage is 6 lozenges for adults and 4 lozenges for ages 12 - 17. Children under 12 years of age should consult a health professional prior to use. Store in a cool dry place after opening.
Avoid minor stomach upset. Do not dissolve Cold-Eeze lozenges on an empty stomach. Avoid citrus fruits or juices and products containing citric acid 1/2 hour before or after taking Cold-Eeze lozenges as they may diminish product effectiveness, otherwise, drink plenty of fluids.