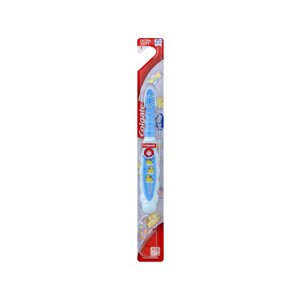 Colgate Extra Soft 7 Toothbrush Ages 0-2
Smiles. ADA accepted. American Dental Association (The ADA Council on Scientific Affairs' Acceptance of the Colgate Kids Toothbrush featuring My First is based on its finding that the product is effective for removing plaque and helping to prevent and reduce gingivitis, when used as directed.) This brush is specially designed for small children who have developing teeth from ages 6 months to 2 years. 1. Cushioned oval shaped head fits comfortably in children's mouths. 2. Center color dot, helps measure the recommended amount of toothpaste. 3. Extra baby soft, angled bristle trim effectively cleans and protects gums. 4. Wide, soft easy grip handle for small hands. Children under 4 should not use without adult supervision. Dentists & Hygienists recommend replacing your toothbrush every 3 months. Made in China.
Do not chew. For tooth brushing only.