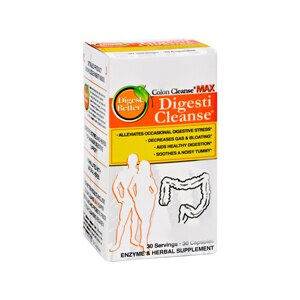 Colon Cleanse MAX Digesti Cleanse 500 mg Capsules
Dietary Supplement. Enzymes for maximum digestive support. 30 servings. Digestive enzymes. Calming herbs. Antioxidant herbs. Detoxifying herbs. Increase enzymes & digest better! Colon cleansing. Soothes a noisy tummy. Decrease gas. Healthier elimination. Gentle on your system. Refreshens your digestive system. A grumbling, noisy tummy is not only embarrassing, it's uncomfortable. Often the first signs of stress are stomach griping cramps, indigestion and gas/bloating. Digestive enzymes have been shown in research to ease and streamline the digestive process. Cooked and processed foods usually lack the enzymes that help your system do its job. Our proprietary digestive enzyme blend is formulated to promote healthier and normal digestion. When digestive enzymes are combined with our best-quality herbs, the result is not only a quieter, more soothed stomach, but better bowel evacuation and a healthier colon too. Soothing and nourishing botanicals assist in cleansing and detoxing your digestive tract. (These statements have not been evaluated by the Food and Drug Administration. This product is not intended to diagnose, treat, cure or prevent any disease.)
Proprietary Digestive Enzyme Blend: Protease, Lipase, Amylase and Chitosinase. Proprietary Herbal Digest Blend: Chamomile 4:1, Burdock Root, Dandelion Root, Dandelion Leaf, Ginger Root 4:1, Gentian Root 4:1, Fennel Seed, Cardamom Seed Pod 4:1, Artichoke Leaf 4:1, Parsley Leaf, Amla, Atractylodes Root 4:1, Citrus Aurantium, Cilantro Leaf, Aloe Whole Leaf Juice, Rice Bran Powder.
Adults: 1 capsule every day with food. Digesti Cleanse may be taken continually to support overall health. Store below 72 degrees F.
Tamper evident seal under cap. Sealed for your protection. Consult your physician if you have frequent diarrhea or if you are pregnant, nursing, taking medication or have a medical condition before using this product. Keep this product out of reach of children.